Polyurea Geotextile Liner System
The first step for the installation is to apply a 16 oz Geotextile over the existing secondary containment area, which could be (dirt, clay, stone, claymax, blacktop, concrete).
The Geotextile material adds additional Tensile strength and puncture resistance to the secondary containment. The Geotextile is then sprayed with 30 mil of a special Polyurea formula (designed for our Company), which allows the Polyurea to penetrate into the fibers, and then is sprayed with another 40 mil of the same polyurea. This second application is done very quickly and is sprayed to form a textured non-slip finish.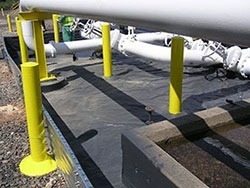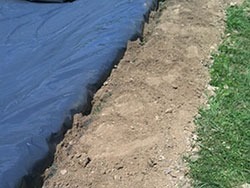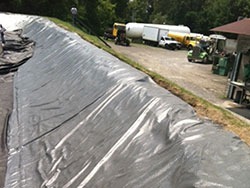 From time to time, you may puncture your liner. However, repairing a breach takes less than a minute to repair.
---
Technical Data for the 100% POLYUREA
Hardness shore d 45
Tensile strength 1,850 PSI
Tear Strength 375 PSI
Elongation 600%
Permeability 0.05
Gasoline Permeability 3 Day No loss of liquid
The combination of the geotextile and the 100% pure polyurea makes this the strongest and most flexible liner in the industry. Our system is ideal for all types of petroleum secondary containment, wastewater secondary containment, fuel loading areas, chemical secondary containment, water ponds, vapor barriers, and landfills.